Although we are not Jewish, we enjoy learning about the traditions and symbolism found in Judaism (and other religions, for that matter). Because it is Passover week, we decided to have a small get-together with our friends to learn about and try the Seder plate fare and some interesting Passover-friendly recipes from a book we found at a garage sale last summer (
The Passover Table
by Susan R. Friedland). We and our friends tried our hand at the recipes shared below. Thank you Shari & Lisa for cooking and bringing the cake and cutlets!
We did run into some hiccups while getting this all together. For instance, because we live in an area with an
overwhelmingly high population of Latter-day Saints
, we had a difficult time finding matzos and matzo meal. We found some
matzo meal
at
Macey's
, but realized after purchasing it that it was "not for Passover use" because it had not been
processed appropriately for Passover
. We ended up making our own matzo bread to use with our Seder and in the Matzo Chicken Pie recipe because we did not find any at the stores we went to. In the end, our matzo-stuff was not Passover-kosher according to the Jewish traditions, but we figured it was the best we could do, all things considered.
We started our meal with a Seder plate, discussing the symbolism of each item as we ate.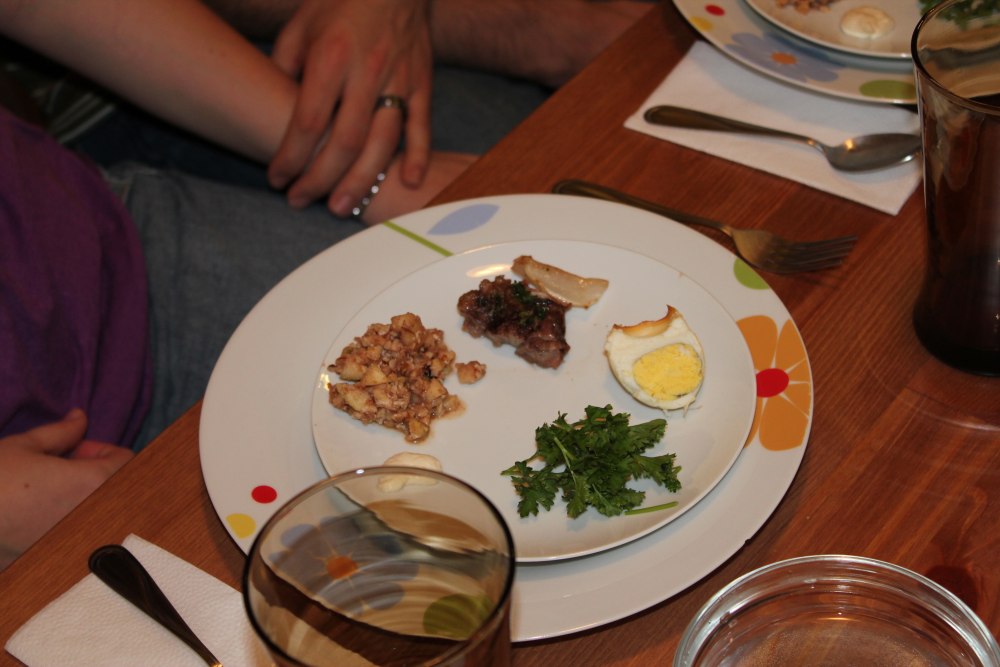 Seder plate
"Karpas" symbolizes new growth of spring = parsley (this is dipped into salt water/vinegar, which represents the tears shed by the enslaved Israelites)
"Maror" symbolizes intense bitterness of slavery = horseradish (we dipped our matzo in horseradish sauce)
"Charoset" represents the mortar the slaves prepared for the building of the pharoahs' cities and pyramids = 1 lb apples, diced ; 1 1/4 c walnut halves, chopped ; 3/4 Tbsp ground cinnamon ; 3-5 Tbsp light grape juice
"Zeroah" represents the Paschal lamb sacrificed at the temple, which represents the Lamb of God, Jesus Christ = roasted lamb (we put ours in the oven with parsley, onions, and lemon juice at 400°F for 15 minutes and then turned it down to about 350°F for about 35 minutes)
"Baytzah" symbolizes mourning for the temple; also a symbol of a festival offering brought to the temple on Pesach = roasted egg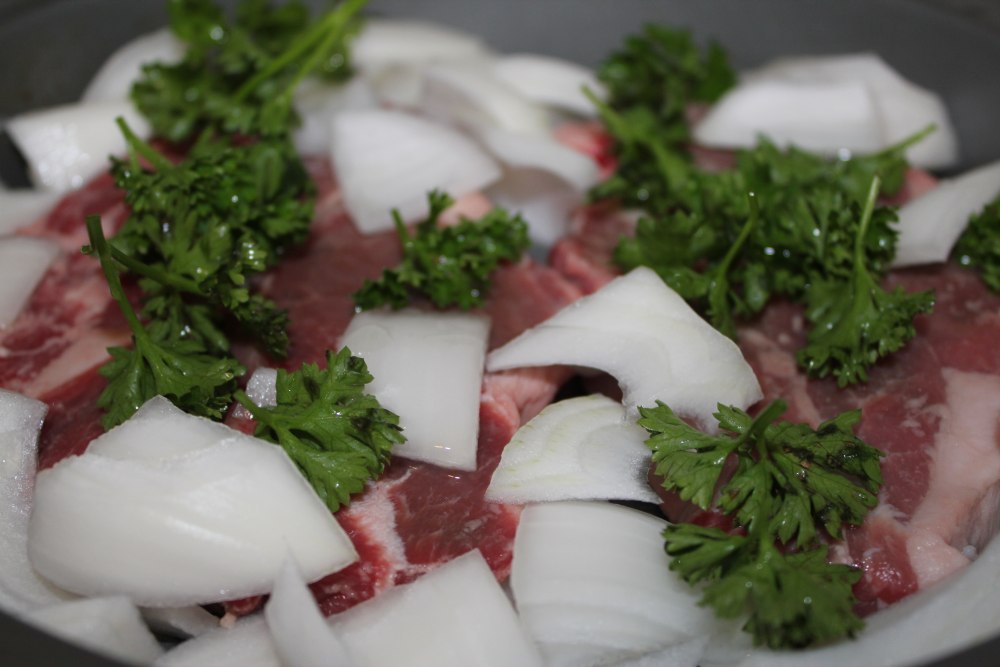 lamb, prior to roasting
Matzo bread
3 units flour to 1 unit water (3 cups flour to 1 cup water yields about 4 medium matzos)
Combine flour and water. Mix and knead into a dense dough.
Roll out to 1/8" thickness or so. Thicker will be more bready, thinner yields more cracker-like matzo.
Poke lots of holes with a fork and bake in a hot oven (450°F or more, as hot as your oven gets without broiling) for a few minutes - until cooked through and possibly browning.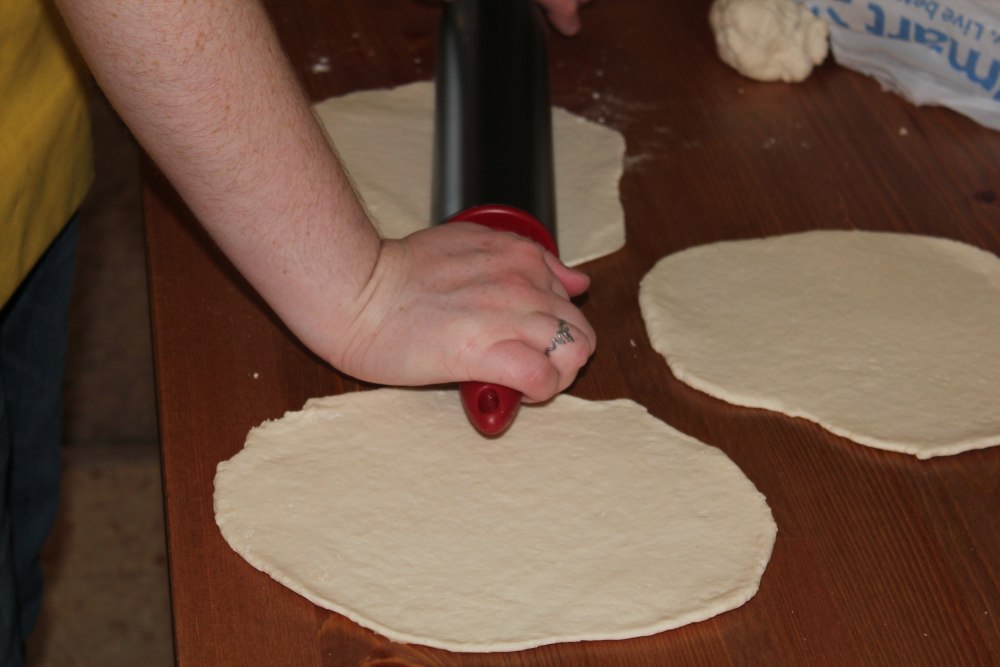 The dough is a little difficult to roll out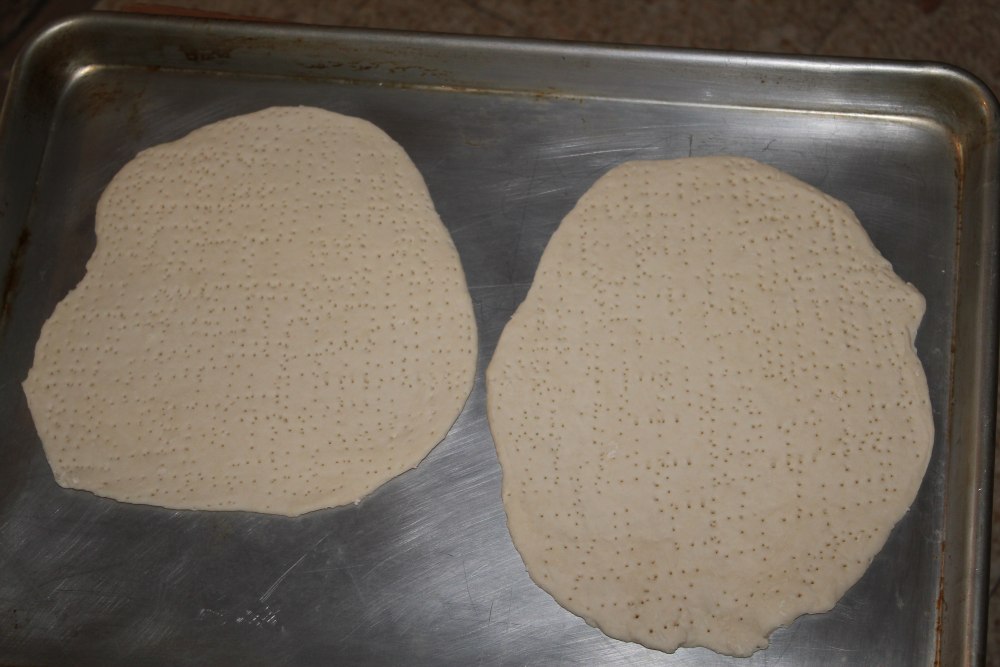 Lots of holes!
Matzo Balls
4 eggs
1/2 c water
1/4 c oil
1 tsp salt
pepper
1 c matzo meal
Beat eggs. Add water, oil, salt, and pepper, and mix well. Add matzo meal and mix thoroughly. Refrigerate for 30 minutes to an hour.
In a large pot, bring some water to a boil. With moist hands, form small (1") balls from mixture and drop them into boiling water.
Simmer all matzo balls, covered, for about 30 minutes until done. Remove with a slotted spoon into a large bowl.
Serve in chicken soup. We served ours in chicken broth made from bouillon.
We got this recipe on the back of the Streit's Matzo Meal box - it was pretty similar to other recipes we'd seen.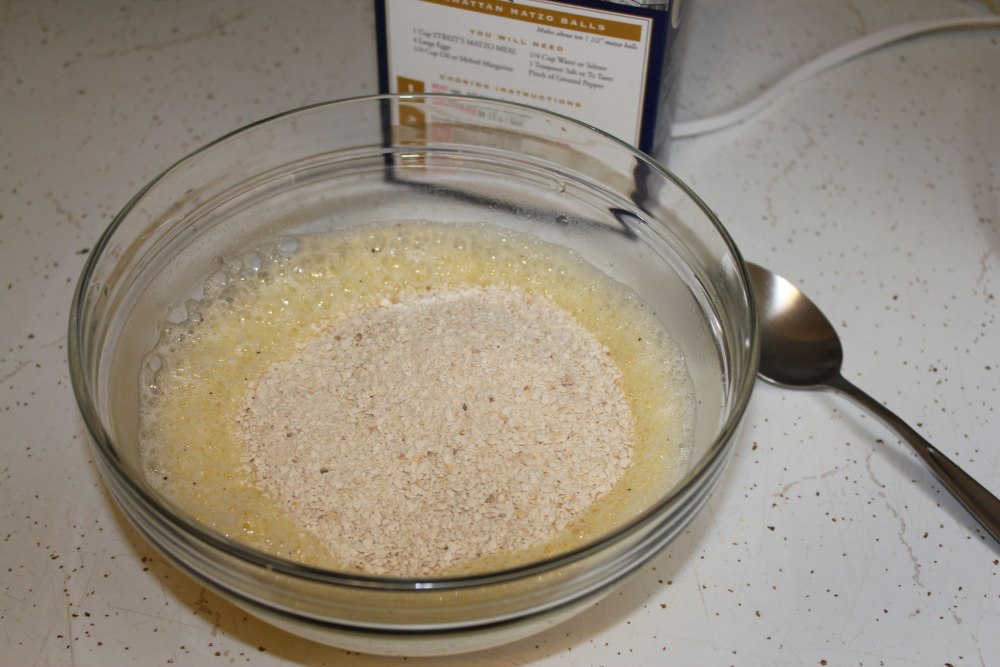 matzo meal added to egg mixture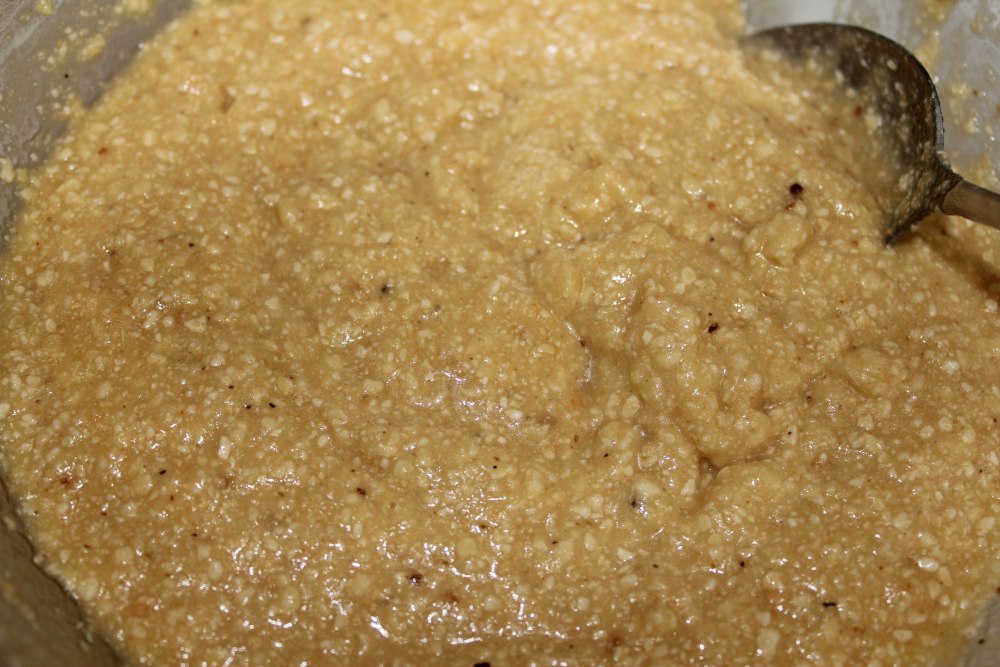 all mixed together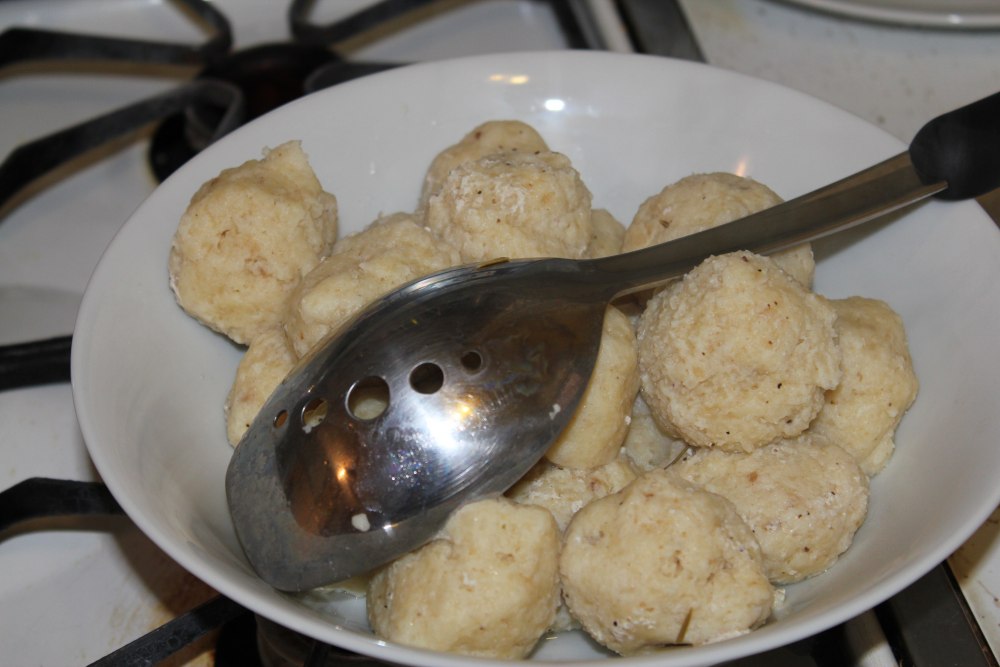 These expand a lot when cooking - these were just taken out of the boiling water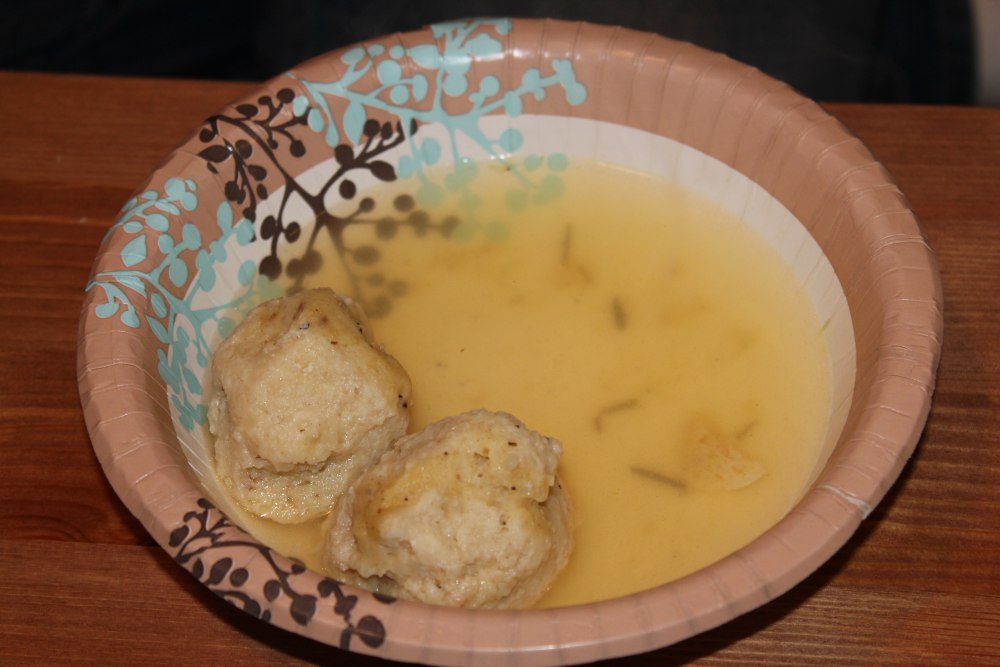 served in chicken broth
Mina de Pesah - Matzo Chicken Pie
vegetable oil for frying
2 c chopped onions
2 Tbsp minced garlic
1 1/2 c mushrooms
3 c cooked chicken (about 14 oz)
salt
pepper
1 c chopped parsley
5 eggs, lightly beaten
5 to 6 matzos
1 c chicken stock
Heat oil in large skillet. Sauté onions and garlic until soft and translucent. Add mushrooms and continue to cook until they are soft too.
Let cool. Add chicken, salt, pepper, parsley, eggs.
Preheat oven to 375°F. Spray baking dish with cooking spray.
Soak matzos in chicken stock until moist. I neglected to complete this step because I could not think of a way to soak them. I instead began layering them and poured some stock over each matzo, but this did not work that well. If I make this again I will place them on a cookie sheet and soak them therein.
Layer matzos and chicken-vegetable mixture like a lasagna: matzos, mixture, matzos, mixture, matzos.
I also did not do this: pour 2 tsp oil over the top and bake for 15 minutes. Sprinkle with another bit of oil and bake for another 15 minutes. (The top matzo on mine was very, very dry... doing this might have remedied that problem).
Let cool 10 minutes, then serve.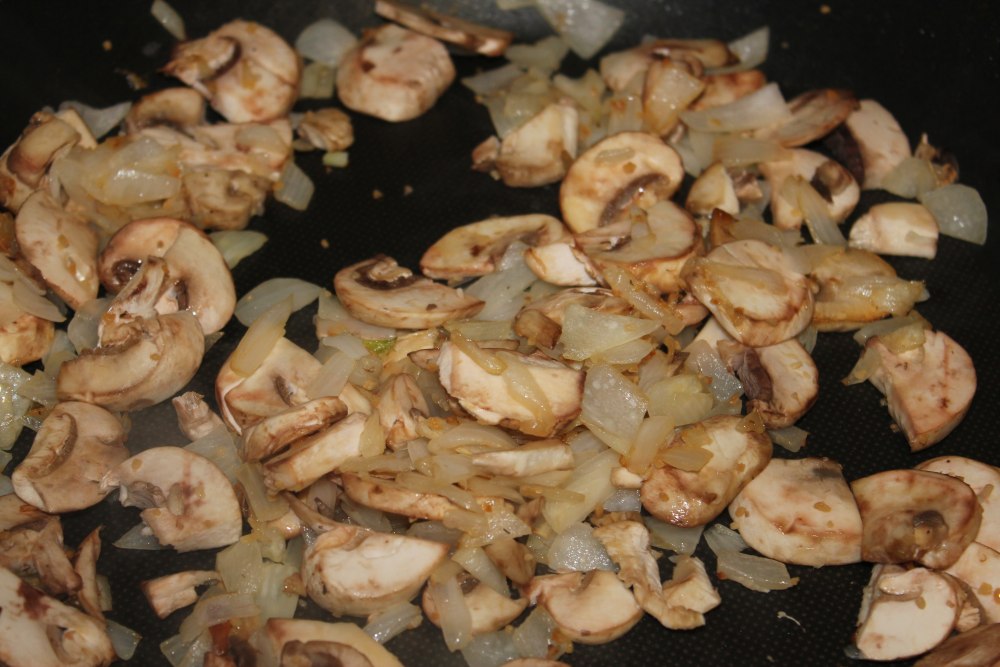 Onions, garlic, mushrooms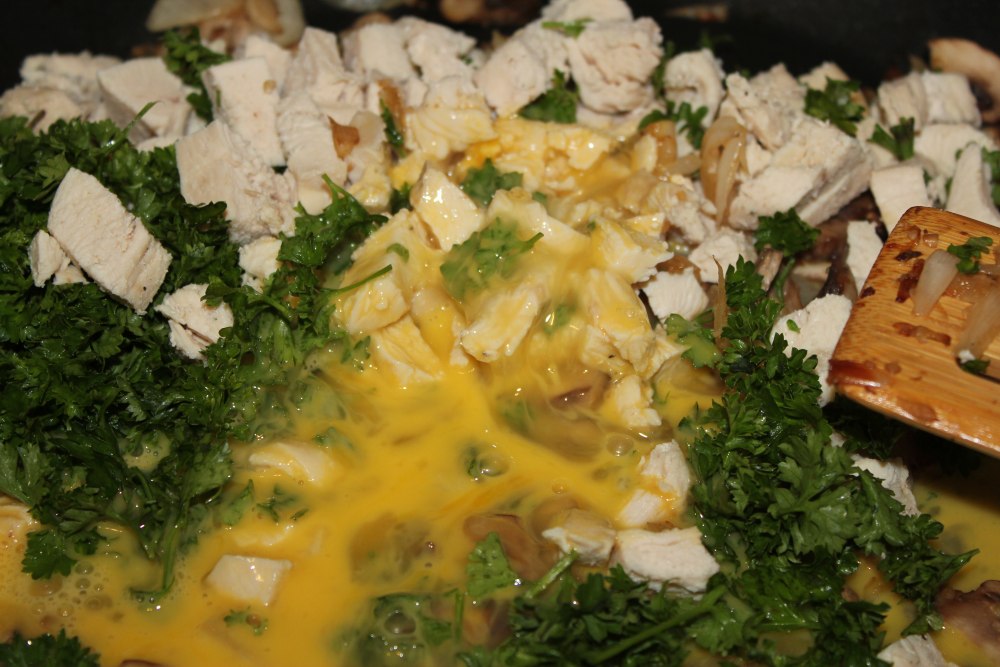 Plus eggs, parsley, chicken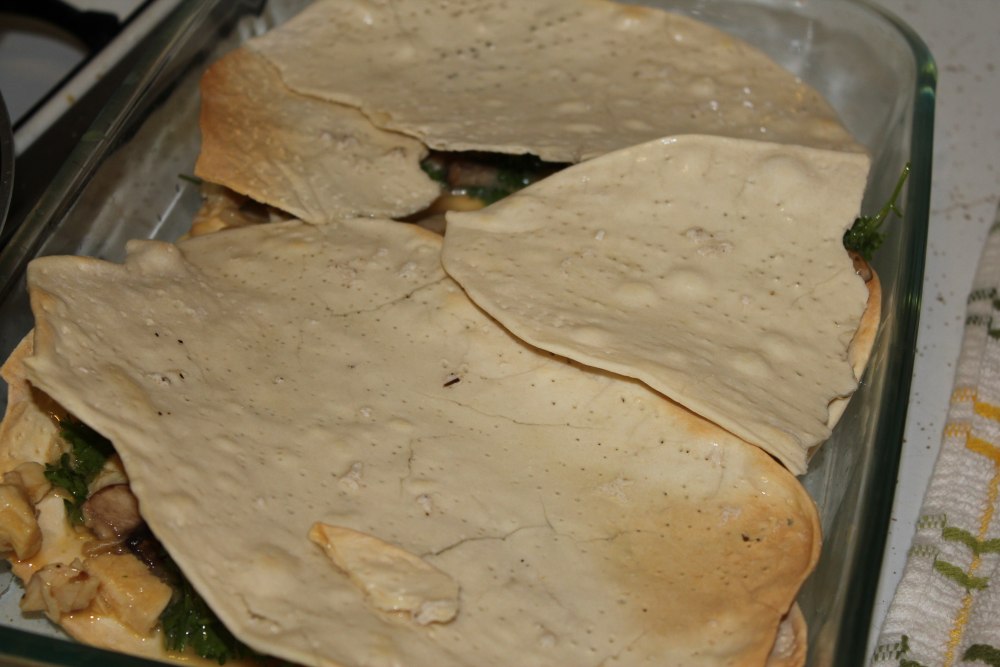 Layered using homemade matzos
Vegetable cutlets (side)
1 1/2 to 2 c minced red or yellow peppers or a mixture of both
2 Tbsp olive oil
1 1/2 c grated carrots (about 4 carrots)
1/2 lb raw spinach, cleaned, trimmed, chopped (2 tightly packed cups)
1 lb (3 medium) potatoes, boiled and mashed (2 c)
6 Tbsp grated raw onion (1 large)
3 eggs, lightly beaten
1 1/2 tsp salt
pepper
1 c matzo meal
vegetable oil
sauté the peppers in the olive oil until soft
add all of the remaining ingredients except vegetable oil and let mixture stand for 30 minutes or overnight, refrigerated. Bring to room temperature before continuing
either fry or bake:

fry by heating 1/4 inch of vegetable oil in large skillet. Form each patty with about 1/4 c of the mixture. Flatten slightly and fry in batches for about 6 minutes on one side, 3-4 minutes on the other side. Drain on paper towels.
bake by putting patties on lightly greased baking sheet and place in preheated 350°F oven for about 10 minutes; turn over and bake another 7 to 10 minutes

serve warm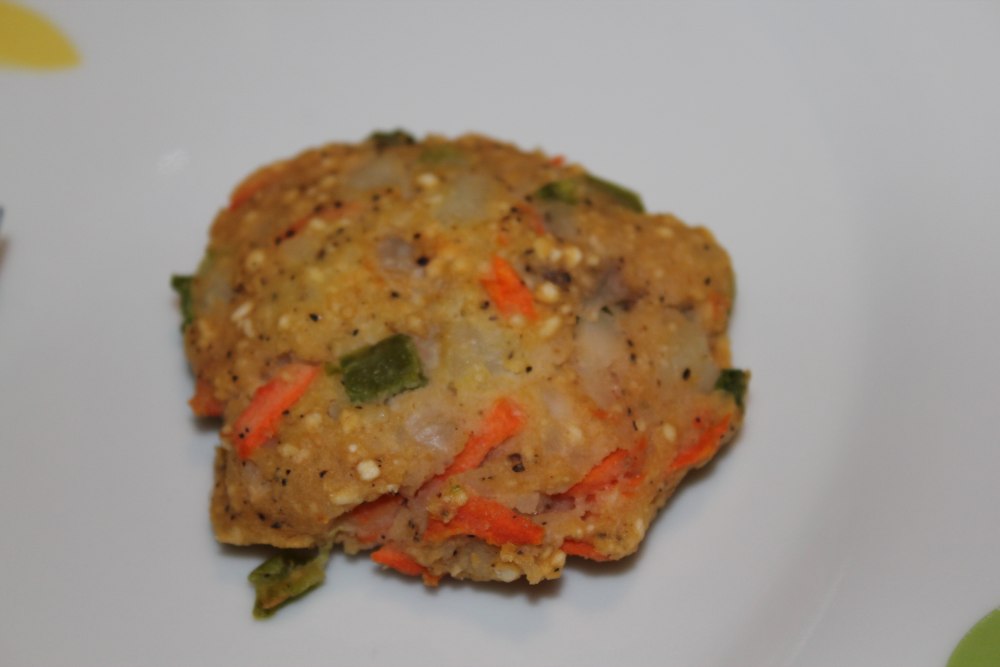 These are yummy - not sure how to describe them, though.
Walnut cake (dessert)
9 eggs at room temperature, separated
1 c sugar
2 c walnuts, ground to a powder
2 Tbsp matzo cake meal (we used matzo meal and it worked fine)
1 tsp pure vanilla extract
1/8 tsp salt
preheat oven to 350°F. Dust two 9x3-inch loaf pans with a little extra cake meal and set aside
with an electric mixer, beat egg yolks until pale in color. Beat in sugar 2 Tbsp at a time, beating well after each addition
combine nuts with matzo cake meal. Stir into yolks along with vanilla.
beat egg whites with salt until they are stiff but not dry. Fold them gently and carefully into the batter
turn the batter into the prepared pans and smooth the top. Bake 30-40 minutes, or until cake shrinks away from side of pans and cake tester comes out clean. Let cool on rack.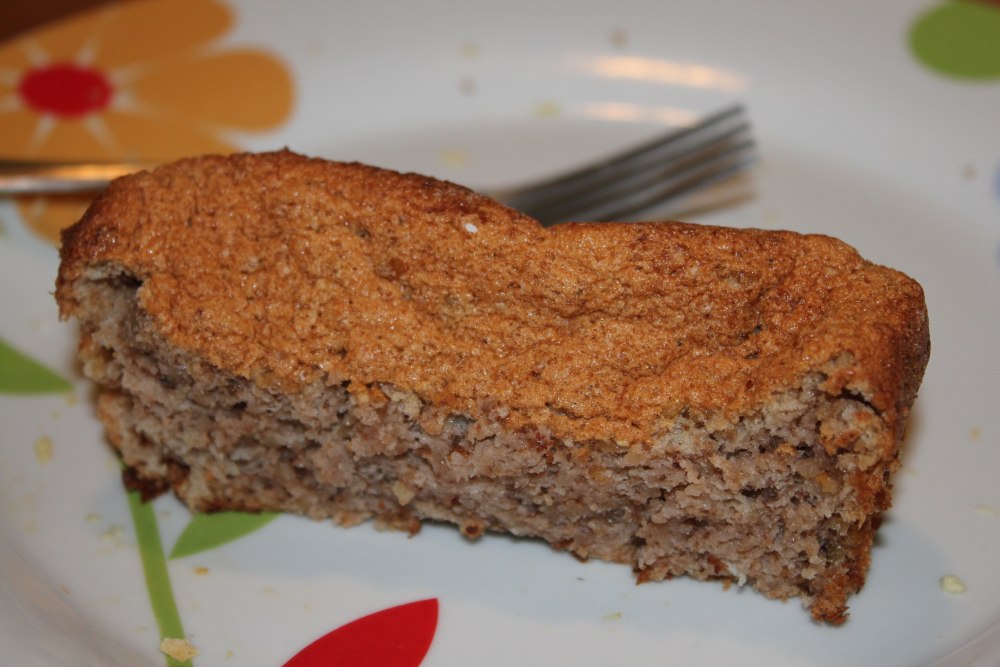 This cake was surprisingly light and sweet - do not be afraid if/when the cake caves in.
oxox