Costco
chicken bakes
, the ones from the cafe (or also available to purchase frozen), are a yummy treat my parents used to buy me. Since we don't live near a Costco, I decided to try to make my own. These are a bit more bready (not necessarily a bad thing!) than I remember the Costco ones being, but the flavor is about right. I originally followed
this recipe on Redefined Mom
but the most recent time I made them, I changed a few things and liked the result a lot better. I used the amounts below and ended up with 4 enormous chicken bakes (one is sufficient to feed my family as a meal with a side of vegetables). I froze the extras to eat later!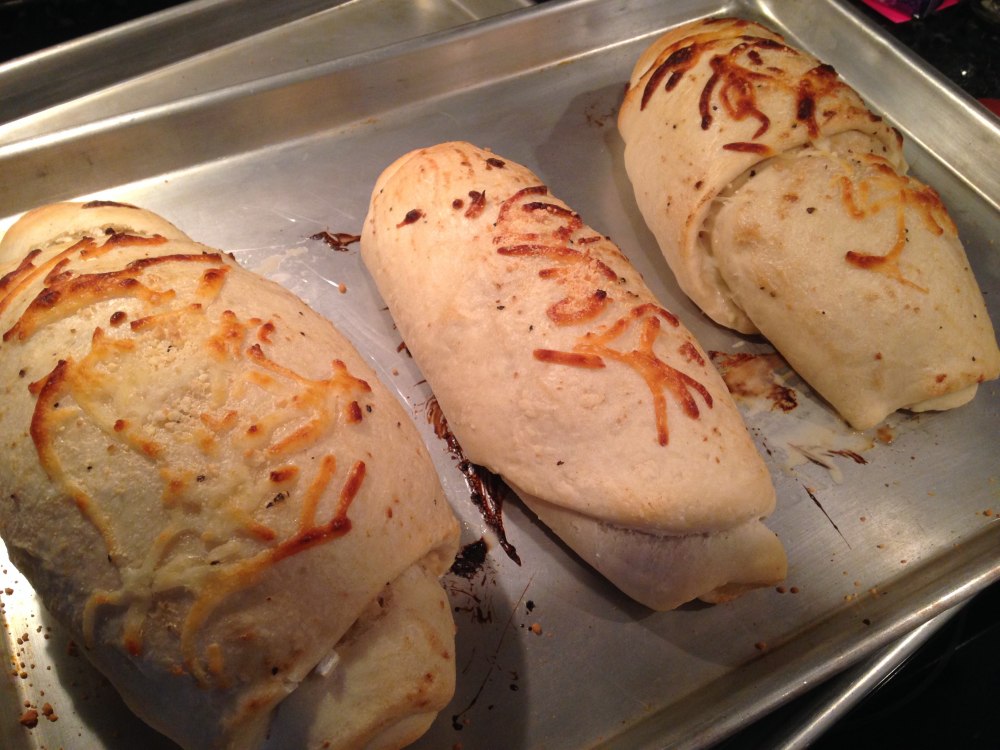 Chicken Bake
one batch
pizza dough
2-3 chicken breasts, baked ahead of time and cut into bite-sized pieces
1/2 large onion, diced
6-8 strips of bacon, cooked and cut into small pieces
a few artichoke hearts, diced
2-3 cups shredded mozzarella cheese
1/2 bottle caesar dressing
(Prep work: bake frozen chicken breasts, lightly seasoned with salt and pepper, at 375°F for 35-40 minutes, until done. Allow to cool, then chop into bite-sized pieces. While baking, you can fry up your bacon & drain on paper towels, and make a batch of pizza dough.)
Preheat oven to 400°F.
Dice onion and cut bacon into small pieces. In a large bowl, combine onion, bacon, artichoke hearts, and chicken.
Add 1/4 to 1/2 cup caesar dressing and mix until everything is well-coated.
Divide dough into 4 even balls (or more if you'd like smaller chicken bakes). Roll each section into a large rectangle, with dough as thin as possible.
Generously brush a few tablespoonfuls of caesar dressing onto each dough rectangle. Don't skimp!
Scoop 1/2 cup or so of the chicken-bacon-onion-artichoke hearts mixture unto each dough rectangle and spread out into a single layer, leaving a couple of inches of space at one end.
Generously sprinkle cheese over the chicken mixture.
Roll up dough rectangle, ending at the side with a couple inches of space. Use the extra dough to seal it up. Place seam-side down onto a baking sheet. Brush with caesar dressing and sprinkle with more mozzarella cheese.
Bake 15-20 minutes, until golden brown on the outside. Serve hot; can be eaten like a sandwich or cut into rounds and eaten with a fork.