Thomas pointed out that this bread is not really
French
bread when I made it recently, because it does not get stale as quickly. Well, I do not mind that fact!
I do not know who to credit with this recipe, but I believe my mother came upon it at church several years ago. It comes out soft and is great for sandwiches or as an addition to a meal.
"French" bread (makes 2 loaves)
2 Tbsp yeast
1/2 cup warm water
3 Tbsp sugar
2 cups hot water
1 Tbsp salt
5 Tbsp oil
3 cups flour + 3 cups flour (you will need 6 cups total)
Dissolve yeast using yeast, warm water, and sugar. You don't want your water to be hot, or it will kill the yeast. You will know that (a) your yeast is active and (b) your water was the right temperature if, after a few minutes, this concoction is foaming/bubbling and begins to grow in its container (make sure it does not overflow!).
Combine hot water, salt, oil, and 3 cups flour and mix.
Add yeast mixture, mix.
Add remaining 3 cups flour, mix.
Let dough rest 5-10 minutes.
Knead for 30 seconds. Repeat the rest/knead process 5 times. If dough gets too sticky, add flour.
Preheat oven to 375°F.
Split dough in half. Roll dough into two large rectangles. Roll each into a loaf shape, pinching seam together underneath.
Place on greased cookie sheets (probably best to put each loaf onto its own cookie sheet).
Score each loaf (take a knife and make 3 shallow diagonal slashes along the length of each loaf).
Let rise 20 minutes.
Bake 25-30 minutes. Brush with butter while warm.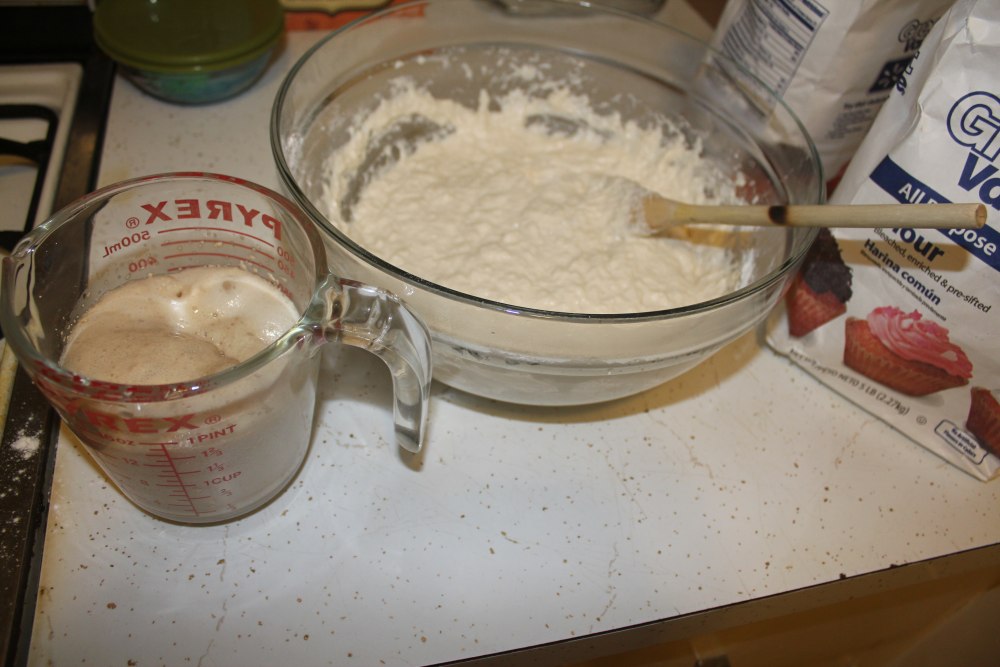 The foamy yeast is on the left.