For a brief stint as I was growing up, my mom sold Pampered Chef products. She probably doesn't realize this, but I have a special place in my heart for many of their kitchen gadgets (
I have 2 of these, for example
), and several of their recipes.
This is one of my favorites
. It is perfect for using up leftover Thanksgiving turkey, and it looks so pretty in a wreath shape!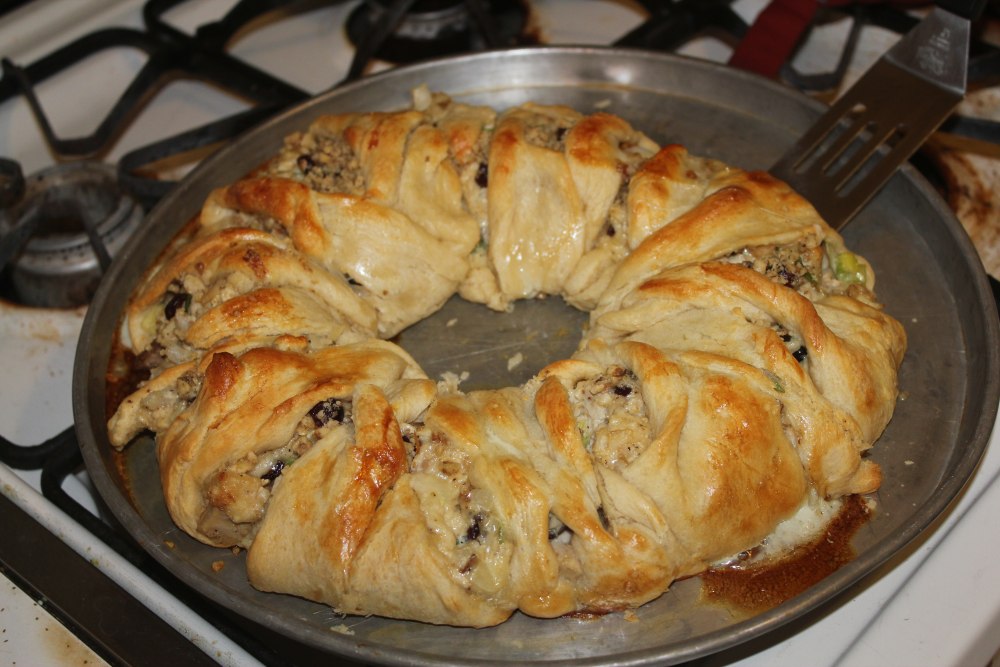 Notice the stovetop from 2 moves ago... I guess I should re-make and re-photograph
Turkey Cranberry Wreath
2, 8-oz packages refrigerated crescent rolls
1/2 cup mayonnaise
2 Tbsp Dijon mustard
1/2 tsp pepper
2 cups cooked turkey or chicken, chopped
1/2 cup celery, finely sliced
1/2 cup dried cranberries
4 oz. (1 cup) Swiss cheese, shredded
1/4 cup walnuts, coarsely chopped (optional)
1 egg white
Preheat oven to 375°F.
Unroll crescent dough; separate (16 triangles). "Seal" the wide ends of 2 triangles together using fingers, 8 times, until you have 8 diamond shapes.
Arrange dough diamonds in a circle on a pizza pan/stone or baking sheet, matching seams together. Each diamond will have one point in the circle's center and one stretched outward like a sun ray.
Mix mayonnaise, mustard, and pepper in a bowl. Add turkey, celery, cranberries, and grated cheese.
Scoop filling over seams of dough, forming a circle. If using walnuts, sprinkle them over the filling at this point.
Alternatingly fold inner and outer triangles of dough across the filling, slightly overlapping to form wreath. Tuck last end under first.
Lightly beat egg white and brush over dough.
Bake 25-30 minutes or until golden brown. Enjoy warm!