This is our new favorite dish: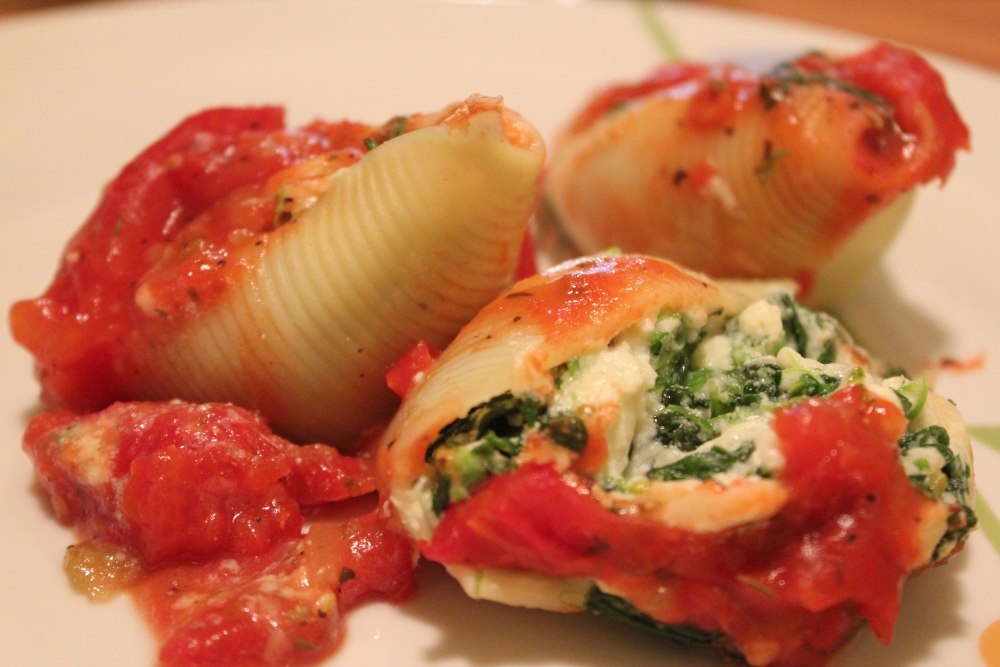 I altered
this recipe I found for spinach stuffed shells
. Although this dish is a little bit time consuming because of the various steps, it's easy enough for us to put together, even on a busy weekday.
Spinach Stuffed Pasta Shells
yields about 4 servings, or the equivalent of a 9*13 baking dish
6 oz. Jumbo shells (we buy the 12 oz. Great Value brand at Walmart and use half a box)
1 jar (about 2 cups?) Marinara/pasta sauce of your choice (we like Del Monte Sweet Basil, but lately Thomas has been making his own pasta sauce starting with a can of stewed tomatoes)
1 c ricotta cheese OR cottage cheese (whatever's cheaper!)
~1/2 lb mozzarella cheese, grated
1 egg
grated Parmesan to taste
6-8 oz. frozen spinach, rinsed to thaw and drained (either one box or 1/2 a 16 oz. bag) (I imagine you could use fresh spinach too, but we haven't tried this)
Preheat oven to 375°F.
Boil pasta per package directions. You'll want it cooked, but not mushy; maybe a little past al dente.
In the meantime, combine ricotta, mozzarella, egg, Parmesan, and spinach. This will be your pasta filling.
Spread a little bit of your pasta sauce around the bottom of a glass baking dish (9x9 works, but 9x13 is easier).
Once pasta is cooked, drain in a colander. Rinse lightly to cool (but take care not to break the pasta).
Spoon cheese/egg mixture into each shell pasta, roughly 3 Tbsp per pasta. Place stuffed pasta into baking dish, on top of the sauce in the bottom.
Once all pasta shells are stuffed and placed into baking dish, pour remainder of pasta sauce over shells. Cover with foil and bake for about 40 minutes. Serve hot!
FREEZING INSTRUCTIONS:
Line your baking dish with foil, so you can remove the food to a freezer bag once solid. Freeze prior to baking. Thaw overnight IN THE BAKING DISH, after removing from freezer bag/plastic wrap, before baking at 375°F for about 40 minutes.
If making a large batch to freeze, these ratios work for 3, 9*13 baking dishes:
24 oz Jumbo shells
about 2, 24-oz jars sauce
24 oz (1 ½ c) cottage cheese/ricotta
1 ½ lbs mozzarella cheese, grated
3 eggs
Parmesan to taste
18-20 oz frozen spinach, rinsed to thaw and drained